Closely-held Halia Therapeutics is developing a broad pipeline of novel therapies that are essential mediators of immune cell signaling with the potential to improve the lives of patients with inflammatory disorders and neurological diseases.
"We are growing to become a leader in targeting the NLRP3 inflammasome through a unique mechanism of action," David Bearss, Ph.D., co-founder and CEO of Halia, says in an interview with BioTuesdays.
The NLRP3 inflammasome is a multiprotein complex that plays a pivotal role in regulating the innate immune system and inflammatory signaling. When activated, NLRP3 activates caspase-1, which initiates the processing and release of pro-inflammatory cytokines, IL-1β and IL-18.
NLRP3 Activation Causes a Release of Pro-Inflammatory Cytokines
Activated NLRP3 drives the release of pro-inflammatory cytokines and triggers inflammatory cell death by pyroptosis.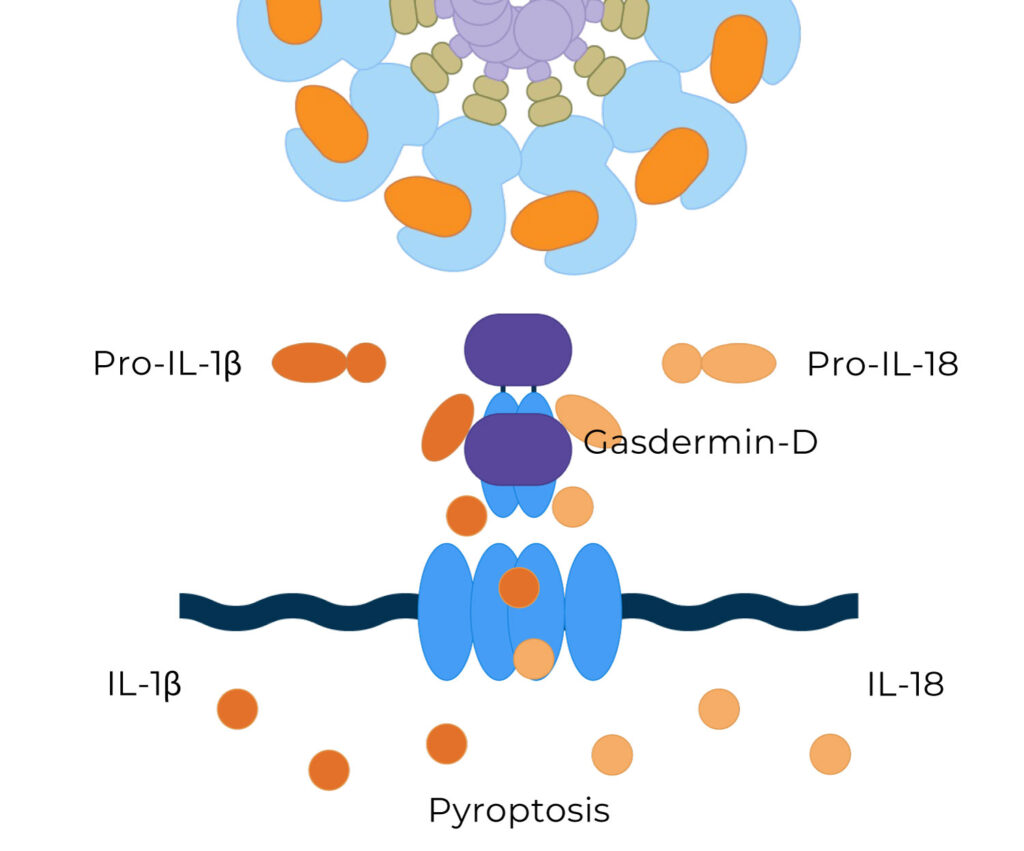 NLRP3-induced chronic inflammation is at the root of nearly all disease pathologies, including fibrotic, dermatological, auto-inflammatory diseases, and neurodegenerative disorders, such as Alzheimer's disease.
Dr. Bearss explains that over the past four decades, research has led to a better understanding of both innate and acquired immune system responses and their role in human diseases. "We now have many new therapeutic targets to explore that target abnormal immune function in human diseases."
Medical science is now beginning the third wave of new therapeutics targeting the human immune response, he suggests. "The first wave was corticosteroids, antihistamines, and immunosuppressants; the second wave was NSAIDs, COX-2 inhibitors, anti-cytokines, and immunotherapy and immune checkpoint inhibitors; the third wave is drugs targeting the root cause of chronic inflammation."
Founded in 2017, Halia spent its early years developing an understanding of the role of the RAB 10 gene in regulating the formation of a large multi-protein complex, known as the NLRP3 inflammasome.
Dr. Bearss says Halia's lead compound, HT-6184, is designed as an oral treatment to prevent the formation of the NLRP3 inflammasome complex and subsequently inhibit the production and release of pro-inflammatory cytokines to shut down chronic inflammatory signaling.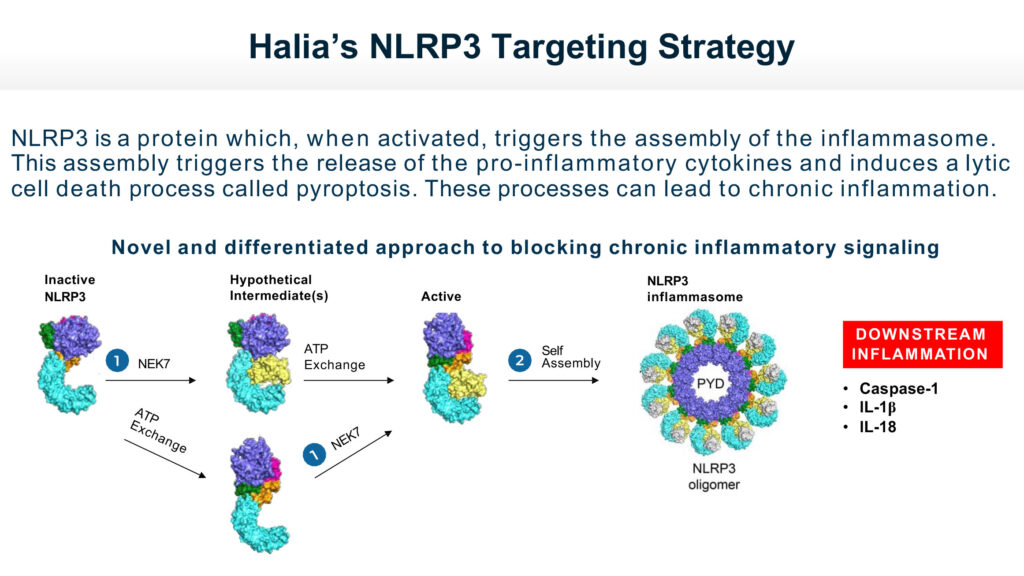 Halia's structure-based drug design strategy targeting an allosteric binding site has produced a pipeline of novel early-stage drug candidates targeting mediators of inflammation to potentially treat gastrointestinal inflammation, ophthalmological inflammation, intervertebral disc disease, dermatology, and Alzheimer's and Parkinson's diseases.
"Leveraging our deep insight into the NLRP3 inflammasome biology, we specifically designed HT-6184 with a novel mechanism of action to target NEK7, a key component of the NLRP3 complex," he adds. "We believe that by inhibiting NLRP3 signally through allosteric NEK7 targeting, we can shut down an important driver of chronic inflammation implicated in some major diseases."
HT-6184 has been shown to suppress the levels of pro-inflammatory cytokines in several preclinical models of inflammation, including neuroinflammation, psoriasis, and colitis.
In mid-2022, Halia dosed the first patient in a Phase 1 trial to evaluate the safety, tolerability, and pharmacokinetics of HT-6184 in 64 healthy human participants.
In its program of other NEK inhibitors, Halia plans to file INDs in the first quarter of 2024 for HT-6289 for the treatment of gastroenterology and for HT-6153 for ophthalmology. "We think our eye drop has the potential to target the inflammatory causes of many different diseases in the eye," Dr. Bearss says.
He explains that since oral HT-6184 does not have optimal brain penetration, the company is working on a follow-on program with the exact mechanism of action as HT-6184 but with different physicochemical properties to target brain uptake. It plans to file an IND for this program in 2024.
Halia also has a program targeting a protein known as LRRK2, another neuroinflammation regulator. HT-4253 has been optimized to potently and selectively inhibit the LRRK2 protein, and effectively cross the blood-brain barrier.
Genetic mutations in the LRRK2 gene have been identified as the most common cause of familial Parkinson's disease and the development of other neurodegenerative disorders, such as Alzheimer's disease and ALS.
"So, we're quite busy, not only with our lead compound but getting ready to bring three new programs into the clinic in the next several months," he adds.